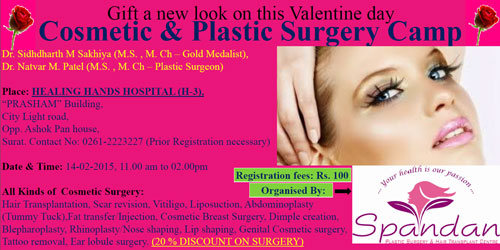 Cosmetic & Plastic Surgery Camp
Dr. Sidhdharth M Sakhiya (M.S. , M. Ch – Gold Medalist),
Dr. Natvar M. Patel (M.S. , M. Ch – Plastic Surgeon)
All Kinds of Cosmetic Surgery:
Hair Transplantation,
Scar revision,
Vitiligo,
Liposuction,
Abdominoplasty (Tummy Tuck),
Fat transfer/Injection,
Cosmetic Breast Surgery,
Dimple creation,
Blepharoplasty,
Rhinoplasty/Nose shaping,
Lip shaping,
Genital Cosmetic surgery,
Tattoo removal,
Ear lobule surgery.
(20 % DISCOUNT ON SURGERY)
Date & Time: 14-02-2015, 11.00 am to 02.00pm
Place: HEALING HANDS HOSPITAL (H-3),
"PRASHAM" Building,
City Light road,
Opp. Ashok Pan house, Surat.
Contact No: 0261-2223227 (Prior Registration necessary)